ensure safety
E-MOBILITY & HIGH VOLTAGE
We support you along the entire value chain of electronics manufacturing. Our experts not only preventively evaluate the risk of failure of assemblies and functional units. They also analyze failures in validation tests and damage in the field concerning the mechanism and underlying causes. Based on this, specific solutions are developed.
Prevent risks before they occur.
Do you have challenges with failing assemblies in the field? Is your assembly is still in the design phase, and you want to identify potential risks?
RISK ASSESSMENT OF PARTICLES ON ELECTRONIC ASSEMBLIES
Risk assessment Technical Cleanliness:
We analyze the safety of your assemblies against short circuits and impairment of the insulation coordination triggered by conductive particles.
You select the corresponding degree of contamination based on the short-circuit risk determined.
RISK ASSESSMENT LEAKAGE CURRENT AND CONDENSATION
Risk assessment leakage:
The hygroscopy and, thus, the increase in the risk of condensation due to ionic contamination is estimated for you by ion chromatography*
The last results will assist you in making decisions on the degree of contamination, cleanliness, and coating.
CONFORMAL COATING:VALIDATION & ROUTINE TESTING
Coating Validation:
Utilizing the CoRe test & iodine vapor test, we analyze if the coating successfully neutralizes the particle and if the protective effect of the coating is given accordingly.
We develop recommendations for you for the improvement of your coating process.
Maximum humidity robustness for components
Understanding risks. Avoiding defects.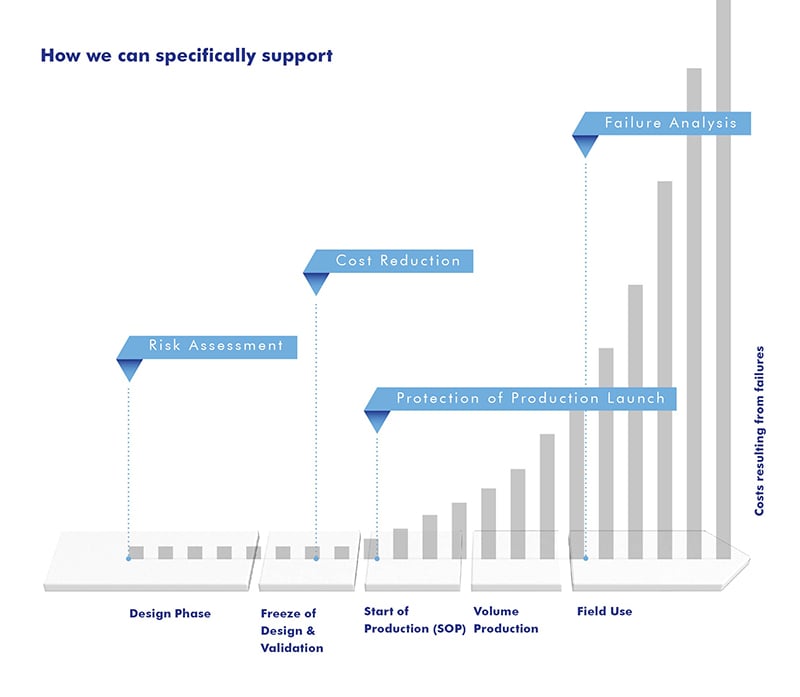 ✓ Risk Assessment
Additional methods for identifying weak points

✓ Cost Reduction
Evaluation of reliability tests with regard to potential savings in processes and purchased parts
✓ Protection of Production Launch
Proof of compliance with the specifications at the start of serial production
✓ Failure Analysis
Development of sustainable, cost-optimized remedial measures


➞ The earlier weak points are identified and eliminated in the assembly's production process and processes optimized, the lower the costs.
---
Typical causes of failure for assemblies and functional units
We know the typical causes of failure for assemblies and functional units are caused by moisture, contamination, and particles, but their explicit identification is the key to remedial measures. Our experienced analytics team has processed over 1000 cases and has the highest quality analytical equipment. This way, we quickly and flexibly conduct a detailed risk, failure, and root cause analysis and develop corrective measures.
You can rely on our competence and experience to solve your challenges.
We advise. You benefit.
✓ Specific, economically feasible recommendations for action in the system context.
✓ Confidential and systematic approach – NDA available
✓ Close exchange with our experienced team
✓ Analytics or system discussion – as required